Exclusive Villa Rental Port Antonio, Jamaica

Welcome to Tradewinds Villa at San San; Jamaica's Secret Paradise

The "Camelot" of the Caribbean
Your Private Getaway

Tradewinds Villa indroduces you to the most exquisite area in the Caribbean. Stay at this charming, peaceful country villa and take time to explore the magnificent environment.

A Very Private Gated Fully Staffed Villa.
Helipad minutes from Villa. State-of-the-Art Marina at Port Antonio.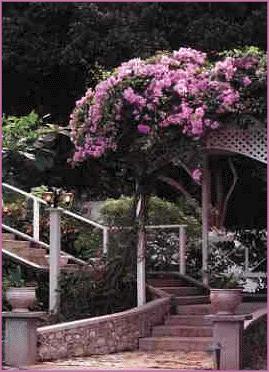 The sheer beauty of the area is so captivating that it has become a favourite location for movie makers.
If the views look familiar it is because you have seen them in such movies as Club Paradise (Robin Williams/Peter O' Toole), Clara's Heart (Whoopi Goldberg), Treasure Island (Charlton Heston) and Cocktails (Tom Cruise).
The Villa
Tradewinds Villa, perched on a lush green hillside

300 feet above San San Bay, commands a

spectacular 160º panoramic view of

picturesque coves and inlets

stretching along the Island coastline

The view is captured from the 75 foot long canopied terrace

You will experience peace and tranquility

in this charming villa, with a garden pool,

set on 5 gated tropical acres

While the staff caters to your every need and comfort,

you may not want to leave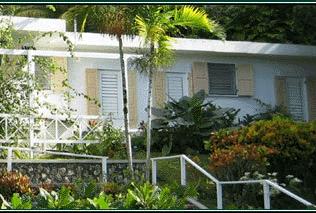 Tradewinds Villa is located 72 miles from the Norman Manley International Airport on the North East coast of the Island at San San. This area is an unspoiled tropical paradise, where the mountains meet the sea and the surrounding rain forest is alive with exotic birds, rivers, water falls and caves.
It is one of the most beautiful areas in the world; an idyllic, environmentally exquisite location superb for swimming, snorkeling, scuba diving, river rafting, caving, hiking and touring, bird watching, and fishing.

The Main house consists of a large breezy Living Room with an

"Out of Africa" theme.

This room completely opens up to a 75 foot canopied terrace - ideal for alfresco dining, bird watching or just relaxing. You will be overwhelmed with the spectacular view from the Living Room and terrace.

AMENITIES

BEDROOMS

4 Bedrooms Air Conditioned and Secured
3 Bedrooms with En-Suite Baths and King Sized Beds
1 Bedroom has 2 Twin Beds and Connected to a Bathroom (Twin Beds available for other bedrooms as option)
MAXIMUM OCCUPANCY: 8

BATHROOMS

4

POOL

Garden Pool Overlooking the Sea

MASSEUSE

Fully Trained in U.S. and available on request considering her schedule

TENNIS COURTS

Tennis courts are within walking distance from Villa. Moderate Fee Required. Courts can also be used at night

GOLF COURSE

Nine Hole Golf Course is 5 minute drive from Villa.
The elevated Recreation Room, in a separate building, has louvered doors on three sides and overlooks the Caribbean Sea. It is a cool place to watch cable TV (CNN, BBC, and BBC America provide world news and financial updates), VHS Movies, play billiards or table tennis.

Tradewinds Villa - Rental Rates & Conditions

Tradewinds Villa Rates

2

Person

1 Bedroom
6 Nights
$1500

4

Person

2 Bedroom
6 Nights
$4880

6

Person

3 Bedroom
6 Nights
$4200
For 7 or 8 people please contact us.
(Rates quoted in U.S. currency and are subject to change without notice.)
Christmas (Dec 21 - 28) and New Year (Dec 30 - Jan 7) Rates
1 Bedroom
6 Nights/2 Person
$3500
2 Bedroom
6 Nights/4 Person
$5600
3 Bedroom
6 Nights/6 Person
$6600
Christmas Dinner and New Year's Dinner compliments of Tradewinds
Rates quoted in U.S. currency and are subject to change without notice.)
Rental Conditions

| | |
| --- | --- |
| | 1. Deposit- 50% is required at the time of reservation |
Method of Payment
Bank Checks, Money Order, Bank Wire Transfer (TT).

Cancellations and request for changes to your reservation must be in writing and promptly faxed.

30% of deposit fee will be returned to you if cancellation notice is received 15 days prior to 30 day advance reservation. If cancellation is received 14 days or less prior to reservation date, no deposit will be returned.

50% of deposit fee will be returned to you if cancellation notice is received 30 or more days prior to a 2-3 month advance reservation.

No deposit fee will be returned if cancellation notice is received less than 28 days prior to a 2-3 month advance reservation.

Tradewinds Rental Policy

| | |
| --- | --- |
| | • The Villa does not sublet. |
For Reservations Email: webmaster@fantasyisle.com

Subject: Tradewinds